Qualcomm has announced its new Snapdragon X70 5G modem, which brings AI and the Fast Connect 7800 which has Wi-Fi 7 and Bluetooth 5.3.
With networks only increasing in quantity and, of course, in speed, we need newer modems and chips to take advantage of all that technology allows.
Not to be outdone, Qualcomm unveils its novelties, which will soon arrive on mobile devices.
The Snapdragon X70 5G modem is the first to have artificial intelligence
Qualcomm claims the Snapdragon X70 5G is the first 5G modem with artificial intelligence, which will bring significant improvements.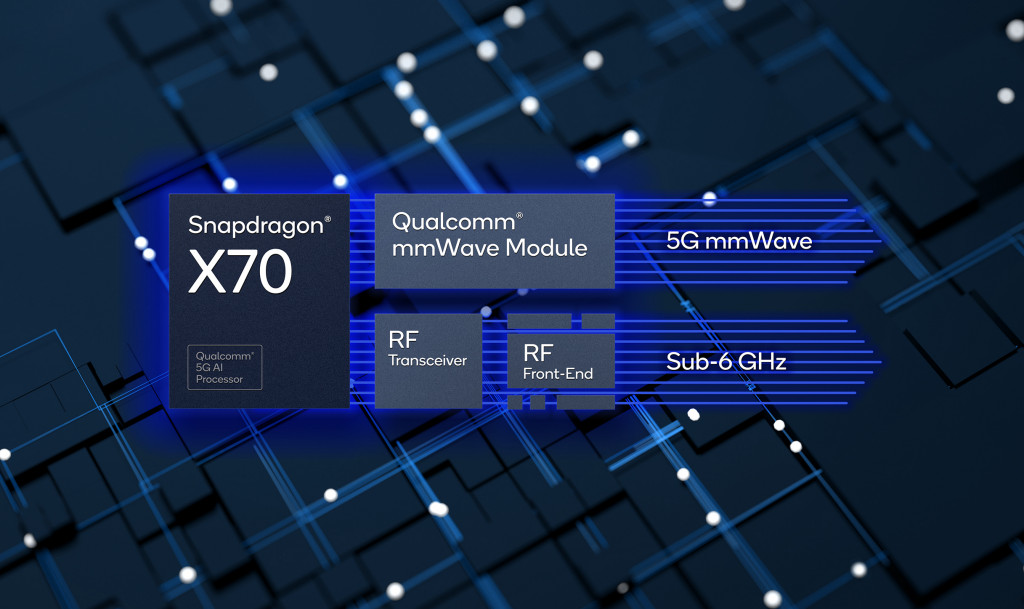 With the use of artificial intelligence, consumers can expect better average speeds, lower latency, greater coverage, power efficiency, higher link robustness with network selection compatible with the AI and AI-based adaptive antenna tuning.
In speed, the Snapdragon X70 5G allows a connection with speeds of up to 10 Gbps on the 5G network in download, in upload, the network has up to 3.5 Gbps, low latency is always promised at all times.
One of the strong points of the new modem of Qualcomm is that it supports the global 5G network, which means it will work anywhere in the world, which is ideal for manufacturers and consumers.
Qualcomm 5G PowerSave Gen 3 technology arrives to improve power efficiency by up to 60%, this is thanks to AI, which brings adaptive antenna tuning, selecting the best antenna to use at that moment. there, which ends up improving the network and the energy consumption.
The Snapdragon X70 5G is expected to arrive in new mobile devices by the end of this year.
Qualcomm Fast Connect 7800 has Wi-Fi 7 and better Bluetooth (5.3)
The new Fast Connect 7800 chip officially supports Wi-Fi 7, the latest version of wireless networking, which is 60% faster than previous versions.
Qualcomm's Wi-Fi 7 will enable download speeds of up to 5.8Gbps, and we'll have sustained latency of just 2ms, which is great for gaming, and features like video calling , live video, for use on augmented reality, virtual reality devices and more.
The Fast Connect 7800 brings all the Wi-F7 network newswhich allows you to use multiple and simultaneous 5 GHz and 6 GHz, to bring the highest possible speed, while of course maintaining the support of the 2.4 GHz network.
Another novelty of the Fast Connect 7800 chip is that it brings Bluetooth 5.3 and Audio LE Bluetooththis means that the player can send audio to two different devices at the same time, while still being able to send audio in high quality.
Another novelty from Bluetooth 5.3, is that it is twice as fast to pair and brings a better connection, the highlight is that it has up to 50% less power consumption compared to previous versions of the technology.
The new Fast Connect 7800 is expected to be commercially available in the second half of 2022.