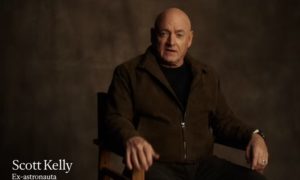 Amorim Cork Flooring, part of Corticeira Amorim, launched a campaign featuring former astronaut and NASA commander Scott Kelly. The campaign aims to highlight the characteristics of the material, such as thermal and acoustic insulation and the design potential of cork.
In an international campaign with strategy and creativity by Stream and Tough Guy, the communication follows the Walk on Amazing concept. Using satellite images orbiting Mars, an area of ​​approximately 600 m2 of the planet was printed on cork. Scott Kelly, who has spent more than 500 days in space without ever walking on an alien surface, was challenged to walk the surface of Mars in cork.
The campaign, which started this Monday, will be present on the web, point of sale and activation and will be broadcast in Portugal and 16 other countries, including the United States, Germany and France.
The media plan was entrusted to Arena and the international communication consultancy was coordinated by Loyal Advisory. The National Council was in charge of Cunha Vaz & Associados. The film was produced by Playground and directed by Rui Vieira.
"There are works that mark our professional career and the life of an agency and this one is undoubtedly one of them. By listening to the various national and international players, by highly structured strategic thinking and by the ambition and complexity of the production of creativity, this campaign stands out in its way of conceiving a brand, a product and an idea that is 100% made in Portugal, but with eyes on the world," said João Ribeiro, Managing Partner of Stream and Tough Guy, in a statement.
//<![CDATA[ (function(d, s, id) { var js, fjs = d.getElementsByTagName(s)[0]; if (d.getElementById(id)) return; js = d.createElement(s); js.id = id; js.async = true; js.src = "//connect.facebook.net/en_US/all.js#xfbml=1"; fjs.parentNode.insertBefore(js, fjs); }(document, 'script', 'facebook-jssdk')); //]]>