Forget the back and forth of laptops, video calls with constant issues, endless scrolling on the smallest screens of mobile phones… Samsung has just launched the range of tablets that are the answer to all our "prayers". With the new Galaxy Tab S8 range you have in your hands the ideal companion to make a video call anywhere with truly professional quality, enjoy streaming, draw, give free rein to the imagination, play, work.
---
Samsung launches a new range of Galaxy Tab S tablets
Launched alongside the Samsung Galaxy S22 series of smartphones, the new range of Galaxy Tab S8 tablets is equipped with sophisticated hardware and high-end features that, fully integrated into the Galaxy ecosystem, make this range the ideal companion to stay connected. In addition to the usual full-size tablet (S8) and the plus version (S8+), Samsung has added to this new range the very first Galaxy Tab S8 Ultrawith the biggest, boldest screen and most powerful performance ever offered by the Galaxy Tab S.
---
Powerful cameras for video calls, videos, streaming
---
This is one of the highlights of the new series of tablets, especially if we talk about the Galaxy Tab S8 Ultra. With two powerful front cameras (12 MP) and two rear cameras, it is the right option for those who will use and abuse this tablet during video call meetings. Besides Video quality is professional (4K), which allows you to capture clear and attractive videos with the rear camera and front camera. Feel free to save insta stories, stream…
More resistant to drops and more
---
With a screen of this quality (the Galaxy Tab S8 Ultra is equipped with a 14.6-inch AMOLED screen), it feels better knowing that what protects it is "only" the thinnest chassis and the lightest, but also the strongest chassis – Armor Aluminum is 30% more scratch resistant and 40% less prone to breakage than the previous model, the Galaxy Tab S7. You can take this S8 Ultra anywhere without fear of riskier moves along the way.
Samsung Galaxy Tab S8 Ultra
Large 14.6-inch Super AMOLED display
Dual 12MP front cameras, 120° ultra-wide and 80° wide,
with RRP from €1,229.90
Samsung Galaxy Tab S8+
12.4-inch AMOLED screen
12MP ultra-wide front camera,
with RRP from €1,019.90
Samsung Galaxy Tab S8
11-inch AMOLED screen
12MP ultra-wide front camera,
with RRP from €809.90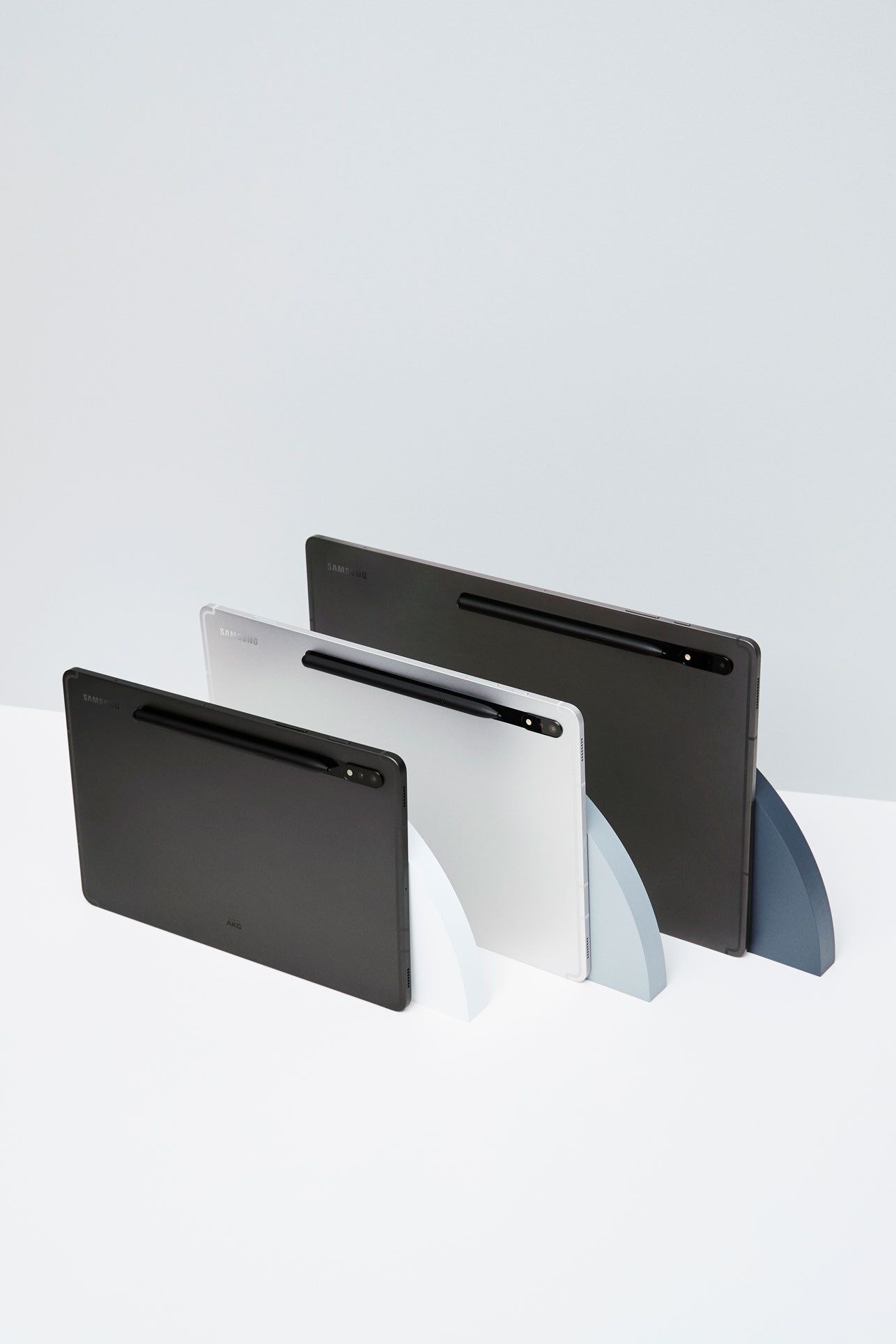 Faster and with greater battery capacity
---
The performance of this range of tablets is unbeatable. It is equipped with The fastest processor Samsung has ever made (a chip 4nm), which lets you explore the more artistic side, play lag-free, or simply multitask. And if you're worried that the battery won't hold up to that much use, don't worry too much. With any of the Galaxy Tab S8 models, you have battery with the ability to last all day. Along with supporting 45W super-fast charging, it charges to 100% in just over an hour. And you can even use your tablet to charge your smartphone. True true. With a simple USB-C cable, the Galaxy Tab S8's incredible fast-charging battery can function as a portable charger.
---
Included accessory: S Pen
Whether it's jotting down reminders on the go in the Samsung Notes app, jotting down meeting notes, editing videos, drawing, working graphically… to recharge. This accessory is included in the three shelves that make up this range.
---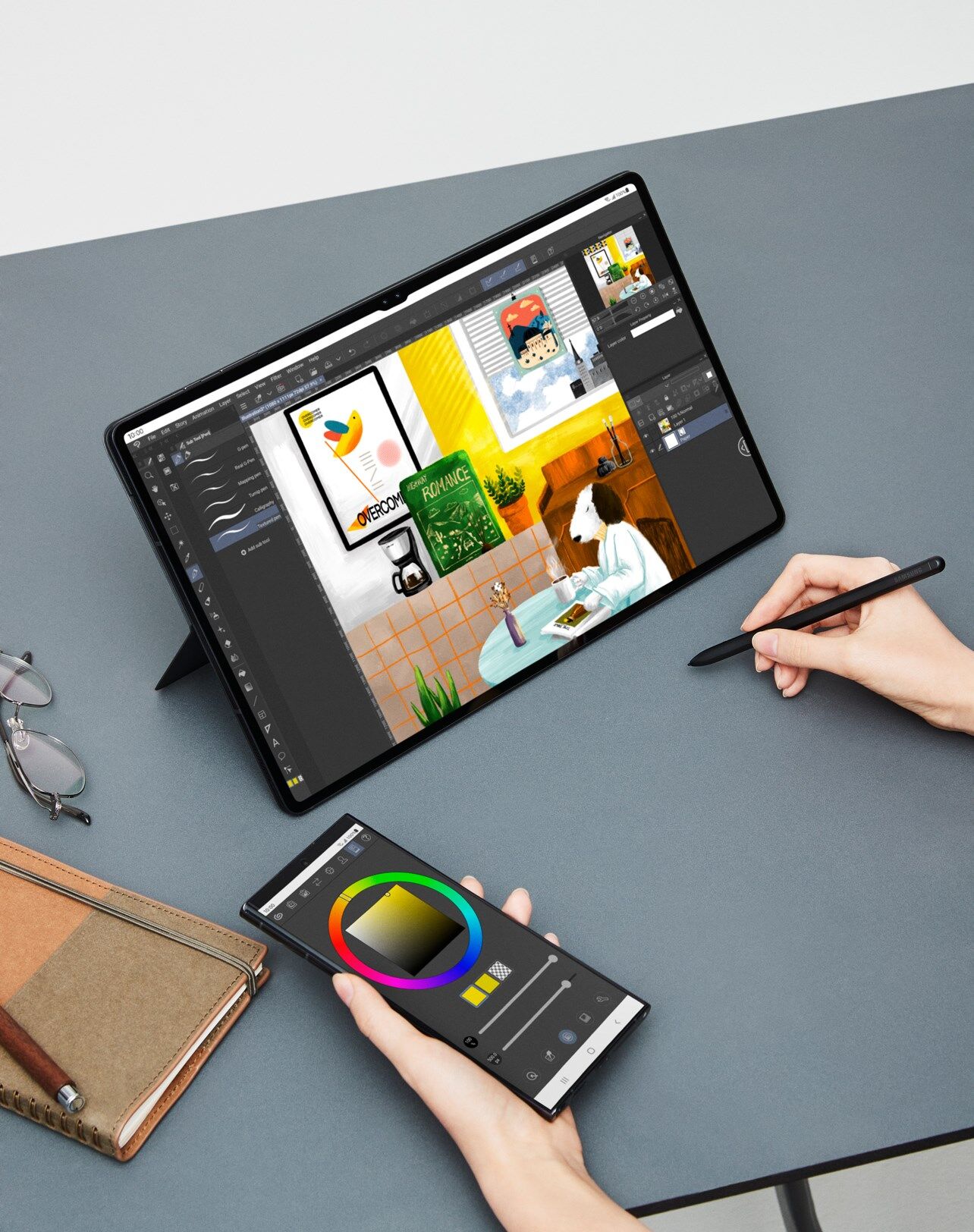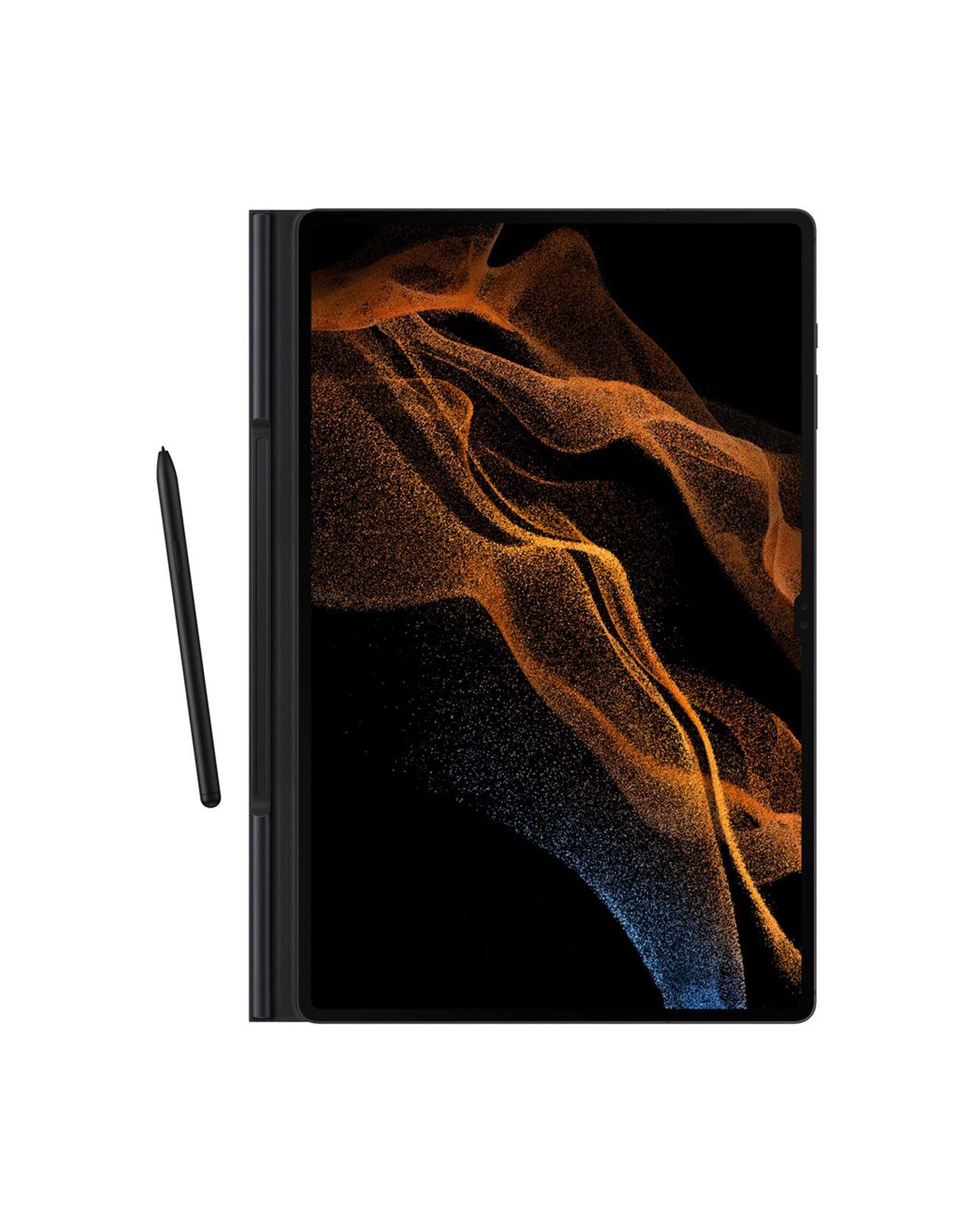 It is also worth taking a look at the additional accessories, such as the new keyboard cover for the Galaxy Tab S8 Ultra, the transparent cover Note View (which allows you to write with the S Pen even on the cover that protects the screen) and the Strap Cover. , attractive to hold the Tab S8 in the orientation that suits you best.
pills to last
---
The range supports up to four generations of Android operating system updates and five years of security updates. This means you can enjoy the latest security, productivity and new features for longer. Security is key, especially for those who use multiple devices for work and play at the same time. the three models Galaxy Tab S8 they're equipped with new features that allow you to instantly block access to prevent unwanted recordings and are protected by Samsung's Knox Vault platform – which protects you from attacks.
thinner boxes
---
You Galaxy Tab S8 tablets They come in boxes made from sustainably sourced paper, helping Samsung reduce emissions and produce less waste. Additionally, the shelves are partially constructed with repurposed plastic components from disused fishing nets. These measures are part of the company's journey to protect the planet.
"It took years and years of experience in mobile innovation to refine the Galaxy Tab S8 series and push the boundaries of what's possible on a tablet with the first Galaxy Tab S8 Ultra," says TM Roh, President and Head of MX Business at Samsung Electronics. .