The Municipal Health Department (Semsad) of São Leopoldo conducts home visits to check for possible dengue fever outbreaks and eliminate breeding sites for the Aedes aegypti mosquito, which transmits dengue virus, chikungunya, Zika and urban yellow fever. During visits, an insecticide is applied to block possible transmissions.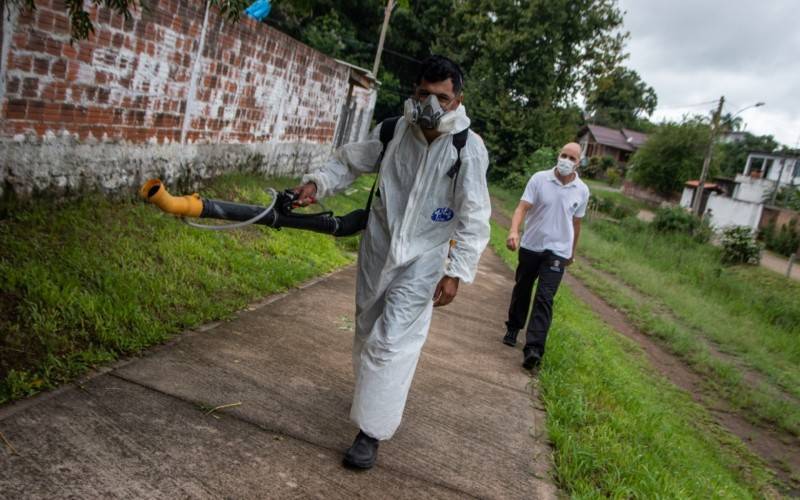 One of these actions was carried out this week in the neighborhood of Santo André, where there was a positive case of dengue fever. Requests are made within 150 meters of the home of a suspected case. Dengue fever, for example, is a type of pandemic disease that can be prevented and care is essential. "People should always keep their patios clean; avoid the accumulation of standing water; use protective screens on doors and windows and the use of repellent, especially in children who are more sensitive", underlines the surveillance coordinator, André Ellwanger, stressing the importance of the population to guard against the mosquito.
Orientation and positive case
"The entire population must help and participate in the fight against this mosquito, by doing its part both in the elimination of these breeding grounds, as well as by welcoming the agents of fight against endemics who carry out visits prevention", underlines the biologist of the Environmental Monitoring of the Semsad, Cynthia Hartman. According to Ellwanger, the reported positive case is autochthonous, that is, it occurred through local transmission in the region. He also reports that surveillance has already received five other suspicion notifications in the past week at three nearby addresses. Semsad insists that any report of a swimming pool with dirty water, stagnant water and any suspicion of mosquito breeding, just call 156.