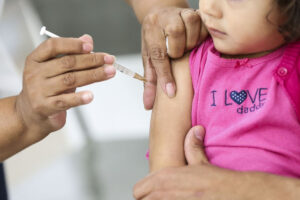 With 26 municipalities out of a total of 54 showing vaccination coverage below 95%, the Regional Health Superintendence of Montes Claros – (SRS) is mobilizing the health secretariats of North Minas to actively search for children not yet vaccinated against meningitis. . The meningococcal C (conjugate) vaccine for children up to 10 years, 11 months and 29 days is made available free of charge in the public network through the unified health system – (SUS).
The coordinator of health surveillance at the SRS, Agna Soares da Silva Menezes, recalls that the vaccine must be given in two doses to children aged three and five months. A third booster dose should preferably be given when the child is one year old. If the parents have missed the deadline for application of the vaccine at the ages indicated, a dose of vaccine must be applied before the child reaches the age of five.
On the other hand, the temporary extension of the application of the meningococcal C vaccine to children up to 10 years old, not yet vaccinated, aims to increase protection against one of the most aggressive types of the disease, which can lead to rapid death or leave serious sequelae.
Last year, Minas Gerais recorded 17 cases of meningococcal disease and four deaths. In two months and 18 days of this year, the Minas Gerais State Health Department – (SES-MG) has already recorded six cases of meningococcal disease and one death caused by the disease.
Among the 54 municipalities that make up the area of ​​intervention of the Regional Health Superintendence of Montes Claros, 18 municipalities have vaccination coverage against meningitis ranging from 95.24% to 100%. They are: Catuti, Claro dos Poções, Cristália, Engenheiro Navarro, Grão Mogol, Guaraciama, Jequitaí, Lagoa dos Patos, Mamonas, Montezuma, Ninheira, Nova Porteirinha, Pai Pedro, Porteirinha, Santo Antônio do Retiro, São João da Lagoa, Taiobeiras and Verdelandia.
"To reverse this situation, it is of fundamental importance that the health services of the municipalities which have a vaccination coverage of less than 95% ensure an active search for children who have not been vaccinated against meningitis. It is a serious disease, but it can be avoided thanks to vaccines available free of charge in basic health facilities," reinforces Agna Menezes.
In 2020, vaccination coverage in Minas Gerais for meningococcal C (conjugate) was 86.43% in children under one year old and 85.67% in children over one year old. In 2021, the recorded coverage was 73.7% for children under one year old and 72.26% for those over one year old.
DISEASE
Meningitis is an infection that affects the meninges, the membranes that surround the brain and spinal cord. Although all types of meningitis require close monitoring of clinical status, meningococcal-type meningitis is more severe.
"They all leave sequelae and lead to death, but meningococcal disease progresses to death within 24 hours, in addition to sequelae ranging from deafness to amputation of limbs", reinforces Fernanda Barbosa, technical referent for the Coordination of Diseases and Communicable Diseases of the Minas Gerais State Health Secretariat.
Fernanda explains that meningococcal disease is an infection caused by a bacterium (meningococcus), which can have several serogroups, A, B, C, W, X and Y being the most important.
"The throat of the human being is the natural reservoir of this micro-organism, therefore, its transmission is done by particles eliminated during breathing, speaking, coughing, sneezing, kissing, or even by direct contact with the respiratory symptoms of patients or asymptomatic carriers", explains the technical reference.
The state coordinator of the vaccination program, Josianne Dias Gusmão, explains that, although the age group most at risk of disease is children under the age of one, adolescents and young adults are mainly responsible for the maintenance of disease circulation in the community. "Therefore, the only way to control meningococcal disease is to maintain high vaccination coverage in children and adolescents," he reinforces.